In 2021, OPPD served 35.4% of its retail sales from renewable energy. We also plan to add up to 600 megawatts of utility-scale solar generation. The project will be one of the largest renewable energy investments of its kind in the Midwest. 
Half of U.S. energy is consumed by Commercial and Industrial (C&I) companies. OPPD recognizes the shift towards renewable energy and we're here to enable all companies to reach their energy sustainability goals.  

Customer-Owned Generation
Solar panels generating solar power are the most common renewable energy systems our customers install. Federal tax advantages may assist initial costs but there are other benefits to your company:
Lower your energy consumption expenses

Help the environment and appeal to green conscience clients

Recruit top talent who seek sustainable employers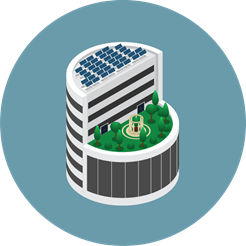 Customer-Owned Generation
Generate your own electricity to save on utility expenses and reduce your company's carbon footprint.
These days there are more options than ever for generating your own electricity for your business - and OPPD wants to partner with you in setting up solar panels, wind turbines or other customer-owned generation systems in the safest and most economical way. If you're thinking about your business going green, collaborate with us, Your Energy Partner, and we'll design a renewable energy solution for your business. 
You may also research and select a green energy contractor, but there are some important things to consider. Regardless of the type of system being considered, it first must be approved by OPPD before interconnection with the electric grid. After approval and installation, customer-owners will benefit from the energy they generate, and may receive a credit on their utility bill for excess production. 
Resources

Interconnection Manual
Requirements for any system
operating in parallel with the
OPPD distribution system