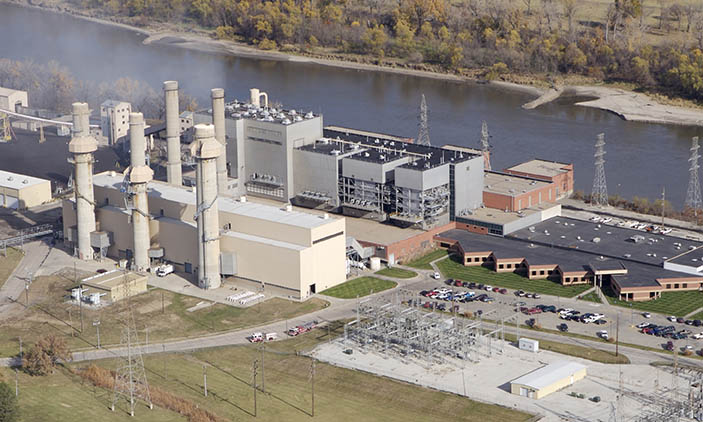 At their monthly meeting today, the Omaha Public Power District Board of Directors approved a recommendation by utility management to temporarily postpone a planned transition of North Omaha Station (NOS). Their vote postpones the retirement of NOS units 1-3, currently available to run on natural gas during times of high demand, as well as the conversion of units 4 and 5 from low-sulfur coal to natural gas.
The temporary postponement is only until the utility's new natural gas generation balancing plants -- Standing Bear Lake Station (SBLS) and Turtle Creek Station (TCS) -- are fully studied and approved for grid interconnection service in accordance with federal law issued by the Federal Energy Regulatory Commission and administered by the Southwest Power Pool.
"We believe this decision is clearly the best option for OPPD and our customer-owners," said Javier Fernandez, OPPD President and CEO. "While this is a difficult decision, it is necessary to maintain the reliable electricity service our communities have come to expect, especially as they continue to grow and thrive."
OPPD had planned to have these plants up and running by the end of 2023. However, we are experiencing unexpected delays in this process due to a backlog facing our regional transmission organization, Southwest Power Pool, with the large number of new projects requesting to come online within its footprint. The board's vote ensures OPPD's customers throughout 13 counties will continue to have reliable, resilient power, as we await final approval for grid interconnection of our new natural gas generation balancing stations. OPPD anticipates all milestones associated with the regional grid interconnection approval process to be completed by 2026.
These new plants, currently under construction, are part of OPPD's Power with Purpose (PwP) initiative to bring additional generation totaling approximately 1,200 megawatts (MW) of natural gas and solar capability online. The diverse generation will help us power our growing communities into the future – prioritizing reliability and resiliency, while also continuing OPPD's commitment to environmental stewardship. 
Both OPPD's new natural gas generation plants and solar generation projects have experienced challenges, including generation interconnection and supply chain issues. Part of the disruption to the solar supply chain stems from a federal investigation of solar panel exports from Southeast Asia. These are issues facing not only our utility, but utilities across the country. OPPD's leadership team continues to work diligently on finding solutions. 
Courtney Kennedy, manager of OPPD's Alternative Energy Program, provided an update on the utility's solar generation additions.
Platteview Solar, an 81-megawatt (MW) solar generation facility, and the first solar contract announced as part of Power with Purpose, now has an updated commercial operation date of May 2024. The previous completion date was adjusted because of national supply chain issues – including equipment lead times. Those living around the Saunders County facility can expect to see activity onsite in early 2023.
As part of the update, Kennedy also explained that OPPD is now working with The AES Corporation (AES) for this project, following AES' acquisition of Community Energy Solar LLC in December 2021. AES is now the long-term owner and operator of Platteview Solar.
Current delays will not impact OPPD's commitment to achieving net zero carbon by 2050, Fernandez said.
Other action
During today's monthly public meeting, directors: 
Approved the May and June 2022 comprehensive financial and operating reports, the June 2022 meeting minutes and the Aug. 18, 2022, agenda.
Conducted and discussed an annual performance review for President and Chief Executive Officer Javier Fernandez. Directors also approved a compensation adjustment.
Authorized OPPD management to reject proposals received and negotiate with suppliers to enter into a contract or contracts for transmission construction services to relocate one transmission line and replace 51 other transmission structures that have reached the end of their useful life. This construction would begin next month and conclude in the first quarter of 2023.
Approved the awarding of a contract to Arvos Ljungstrom LLC in the amount of $2,498,785, for the purchase of air preheater basket and seal replacement materials for Nebraska City Station Unit 2.
Voted to accept revisions to board policy Strategic Directive 9: Resource Planning. The directive has been renamed Strategic Directive 9: Integrated System Planning. The revisions include guidance from the Board of Directors on considerations they would like to see made during system planning decisions. Through Integrated System Planning efforts, OPPD will continually plan for, adapt to and enable both the needs of our customer-owners and the rapidly transforming electric industry. This will help ensure a reliable, resilient electric system.
Received the monthly President's Report, available to view at OPPD.com/BoardMeeting. 
Board workshops
To best serve our customers, OPPD is seeking to align on rate principles that will guide the future of rate design. Our leadership team developed a new Rate Design Project aimed at creating a long-term rate design vision to guide the district's investment of resources, as well as future rate and product offerings, through a process that includes customer outreach.
OPPD has been holding a series of rate design board workshops, which our customers and stakeholders may attend and observe - either in-person or via a livestream link. The final workshop will take place Aug. 29, between 9 a.m. and 4 p.m., at Metropolitan Community College Fort Omaha Campus, Mule Barn Board Room, 5300 N. 30th St., Omaha.
The board will not take public comments during this workshop. A livestream link will be available shortly before the session begins via OPPDCommunityConnect.com. The public may comment on this final workshop Aug. 29 – Sept. 11 at oppdcommunityconnect.com. Like previous workshops, this final session will be recorded for later public viewing.
Next board meetings
The next all-committees meeting is scheduled to be held virtually Tuesday, Sept. 20, about 10 a.m. The meeting link and instructions will be available at OPPD.com/CommitteeAgenda, beginning about 9:45 a.m., depending on the duration of a preceding closed-session meeting, if needed.
The next monthly board meeting will be held Thursday, Sept. 22, at 5 p.m., both in-person at the Legislative Chamber of the Omaha Civic Center, 1819 Farnam St., as well as virtually via Webex. The public can attend virtually by accessing the meeting link and instructions at OPPD.com/BoardAgenda, beginning at 4:45 p.m.