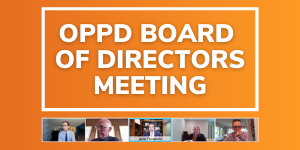 Omaha Public Power District's budget for 2023 reflects the utility's work to adapt and thrive in an ever-changing energy landscape. The OPPD Board of Directors approved the $1.9 billion Corporate Operating Plan (COP) at their monthly meeting tonight.
The plan contains no general rate increase and supports our unwavering mission to provide affordable, reliable, environmentally sensitive energy services. Through careful fiscal management, OPPD was able to hold rates steady despite average inflation of 7.1% in the United States, with the energy sector experiencing year-over-year inflation of 13.1% as of November, according to the U.S. Department of Labor Statistics.
The COP does include a small change to the fuel and purchased power adjustment (FPPA), which appears as a separate line item on customers' electric bills.
"What's driving this is the large increase we've seen in the wholesale markets for fuel and purchased power, expected to continue into 2023," said Jeff Bishop, vice president of the Financial Services Business Unit. "The FPPA mechanism was designed to address such fluctuations that are outside of our control, while keeping power affordable for our customers."
The FPPA increase, effective Jan. 1, varies across customer classes, averaging 2.9%. The increase is 2.5% for residential customers, though the exact amount varies based on an individual household's energy usage. For an average residential customer with a bill of $110.62 a month, the FPPA will go from $1.73 to $4.47 a month.
"We don't take this lightly," said Bishop. "We know that even small monthly increases can be challenging for our customers."
Because the FPPA is calculated based on energy consumption, customers can take steps to control the impact of the increase by reducing energy usage. OPPD has energy-efficiency strategies and tools to help, including how-to videos, at OPPD.com/ee. In addition, OPPD continues to offer a variety of bill-payment assistance programs and community resources for those who may be struggling. Customers can learn more by talking with a customer service representative, at 402-536-4131.
Our 2023 budget reflects continued substantial load growth as our communities grow. We are working to ensure electric service reliability by investing in generation infrastructure, as well as our transmission and distribution system. This includes our Power with Purpose project to add up to 1,200 megawatts (MW) of utility-scale solar and natural gas balancing generation.
The COP also includes investments in Automated Metering Infrastructure (AMI), a two-way communication system to help improve outage reporting and OPPD's response to outages among other benefits. We will also devote resources to critical technology, facilities and our workforce, among other areas.
You can view the full 2023 COP by visiting OPPDCommunityConnect.com/cop.
Power with Purpose (PwP) update
During this week's board committee meetings, OPPD provided directors with an update on our PwP project, including construction progress at the natural gas balancing plants – Standing Bear Lake Station (SBLS) and Turtle Creek Station (TCS). In September, OPPD worked with contractors to transport nine Wärtsilä reciprocating internal combustion engines to the SBLS site at 114th Street and Military Road. And over the next week, our team will finish moving the second of two Siemens Energy simple-cycle generator and turbine sets to the TCS site at 168th Street and Fairview Road. These large, carefully and successfully orchestrated moves are major milestones for the projects.
The solar portion of PwP is also progressing well, with design and preparation for construction for the 81-MW Platteview Solar facility underway. Major equipment is on order, and electrical, civil and structural engineering plans are under review. Substation work has begun. And we continue to coordinate with local leaders on community updates and economic development opportunities. Beyond Platteview, the team continues to navigate the interconnection backlog, federal policy and supply chain challenges to deploy the remaining solar projects to achieve up to 600 MW of solar for PwP.
Resolution of appreciation
At their monthly meeting, directors approved a resolution of appreciation for Board Treasurer Rick Yoder, whose six-year term ends Jan. 4, 2023. In addition to treasurer, Director Yoder has served as secretary and vice chair, and he has chaired or served on all of the board's standing committees. During his tenure, he used his breadth of experience to provide steady guidance to the board and the utility, applying his business acumen and judgment to district and community activities.
Other action
During today's monthly public meeting, directors: 
Approved the October 2022 comprehensive financial and operating report, the November 2022 meeting minutes, and the Dec. 15, 2022, agenda.
Approved a declaration to reimburse anticipated 2023 capital expenditures with tax-exempt bond proceeds.
Reviewed and accepted the monitoring report for Strategic Directive (SD) 8: Employee Relations, which means the board finds the utility sufficiently in compliance with the directive. Board members also discussed and approved policy revisions to SD 2: Rates. You can view the changes here within the board resolution.
Awarded a contract in the amount of $513,914 to Arvos Ljungstrom LLC to replace the North Omaha Station Unit 4 air preheater baskets and seals.
Authorized OPPD management to negotiate and enter into a contract or contracts for the design and supply of new modified traveling water screen equipment for cooling water intake structures at Nebraska City Station and North Omaha Station.
Received the monthly President's Report, available at OPPD.com/BoardMeeting. 
Next board meetings
The next all-committees meeting will be held virtually Tuesday, Jan. 17, about 10 a.m. The meeting link and instructions will be available at OPPD.com/CommitteeAgenda, beginning about 9:45 a.m., depending on the duration of a preceding closed-session meeting, if needed. The next monthly board meeting is Thursday, Jan. 19, at 5 p.m., both in-person at the Legislative Chamber of the Omaha Civic Center, 1819 Farnam St., as well as virtually via Webex. The public can attend virtually by accessing the meeting link and instructions at OPPD.com/BoardAgenda, beginning at 4:45 p.m.