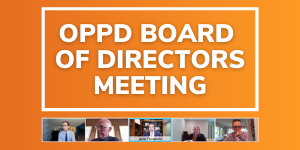 Omaha Public Power District is working to develop our strategic vision of Powering the Future to 2050, with a number of strategic initiatives helping to lay the path forward. During their monthly board meeting this evening, the OPPD Board of Directors received an update on two of them – Workplace Transformation and Technology Platform.
These and other initiatives underway take into account dynamic trends and issues that continue to shape the future of the electricity industry, including carbon emissions and climate change, emerging sources of competition, the future role of electricity markets, smart technology, evolving customer desires and more.
The Workplace Transformation initiative will develop a framework to ensure OPPD's workforce is ready for operational changes, as well as to support OPPD's evolution as a utility of the future and to promote OPPD's position as an employer of choice. The Technology Platform initiative aims to create a sustainable and secure technology foundation that cultivates customer and employee confidence, while directly aligning with OPPD's holistic goals.
These two initiatives go hand-in-hand and have a mutual goal – to make working at OPPD easier and more fulfilling. The work they accomplish will enable our employees to serve our customer-owners more efficiently and effectively.
Power with Purpose update
This week, OPPD management provided directors with an update on the utility's Power with Purpose project to add up to 600 megawatts (MW) of utility-scale solar and natural gas generation. The increased generation capacity will help maintain long-term reliability and resiliency of the system.
The U.S. Department of Commerce is examining several Southeast Asian manufacturers to determine if they are using Chinese parts within their production of solar panel components to circumvent tariffs. The investigation is focused on four countries (Cambodia, Malaysia, Thailand and Vietnam), accounting for 80% of our nation's imported solar panel supply. A preliminary determination could come any time between now and Aug. 29. Meanwhile, the resulting market disruption has caused a slowdown in the solar market nationwide. Many contracted projects have been put on hold or renegotiated to mitigate risk from the uncertainty of potential impacts to pricing, financing and timelines. U.S. utilities are challenged to stay on track to meet commitments for plant retirements and/or near-term capacity expansions due to these increasing solar project delays.
OPPD is closely following anti-circumvention investigation developments to determine potential impacts and the best path forward as we bring on additional Power with Purpose solar projects. In addition, we continue to partner with local community leaders and other stakeholders to raise awareness and improve understanding of the development process for solar facilities. OPPD also is working to provide education to help our communities understand the technology, industry and the importance of integrating these assets timely.
Economic Development
Board members are considering making revisions to Strategic Directive 11: Economic Development. A redlined document is available for public viewing at OPPDCommunityConnect.com. We welcome feedback on the proposed changes. Comments will be accepted through June 12. The board will consider all input received prior to voting on any amendments, which they expect to do at their next regular monthly meeting on June 16.
Other action
During today's monthly public meeting, directors: 
Approved the March 2022 comprehensive financial and operating reports, the April 2022 meeting minutes and the May 19, 2022 agenda.
Discussed and accepted the monitoring report for Strategic Directive-3: Access to Credit Markets. Acceptance means the board finds OPPD to be sufficiently in compliance with the directive.
Awarded a contract to Boiler Tube Company of America in the amount of $1,346,000 for the material and fabrication of tubing assemblies, including vibration baffle plates, tube shields and tubing hardware, for the replacement of the upper bank of the Nebraska City Station Unit 2 boiler economizer.
Approved the Engineer's Certification and provided authorization for OPPD management to negotiate and enter into a contract or contracts for material and installation services for a 69kV power cable. This procurement will support the relocation of a transmission line from overhead to below ground for a customer development and expansion project. The customer will reimburse OPPD for all costs associated with the transmission relocation project.
Received the monthly President's Report, available to view at OPPD.com/BoardMeeting. 
Next board meetings
The next Board of Directors committee meetings will be held virtually, via Webex, Tuesday, June 14, at approximately 10 a.m. The public can access the meeting link and instructions at OPPD.com/CommitteeAgenda, beginning at about 9:45 a.m., depending on the duration of a preceding, closed-session meeting, if needed. In compliance with the Open Meetings Act, OPPD is also providing a physical location at Energy Plaza, 444 South 16th St., Omaha, for members of the public who wish to watch the Webex virtual meeting in person.
The next monthly board meeting will be held in-person at the Legislative Chamber the Omaha Civic Center, 1819 Farnam St., as well as virtually via Webex, Thursday, June 16, at 5 p.m. The public can attend virtually by accessing the meeting link and instructions at OPPD.com/BoardAgenda, beginning at 4:45 p.m.