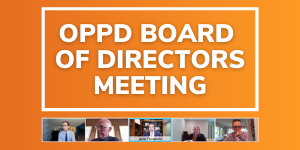 During this week's committee meetings for the Omaha Public Power District Board of Directors, utility leaders presented their preliminary $1.9 billion Corporate Operating Plan (COP) for 2023. The plan would hold general rates steady; however, it does include a modest fuel and purchased power factor increase to keep up with the rising costs of fuel and purchased power.
Fuel & Purchased Power Adjustment (FPPA)
The Fuel and Purchased Power Adjustment (FPPA), is a commonly used mechanism in the industry to help manage costs outside of a utility's control, such as fluctuating coal and natural gas prices, and power purchased on the energy market. It appears as a line-item on customer bills. OPPD's FPPA has not changed for five years. However, OPPD and utilities across the nation are seeing rising costs for fuel, particularly natural gas, and purchased power.
"Increased fuel and purchased power costs are expected to continue to increase into 2023, prompting the need to utilize the FPPA mechanism," said Jeff Bishop, vice president of the Financial Services Business Unit. "We're using it to help offset those higher costs, with the goal of continuing to keep power affordable for our customers."
Bishop said the FPPA would rise by varying amounts across customer classes, averaging 2.9%. For residential customers, the FPPA would increase by 2.5%. The exact amount by which customers may see their bills increase would vary based on energy usage. For the average OPPD residential customer, whose bill is currently $110.62 per month, the current FPPA $1.73 would increase to $4.47, effective Jan. 1.
Because the FPPA is calculated based on energy consumption, customers can take steps to control the impact of the increase by reducing energy usage. OPPD has energy efficiency strategies and tools to help, including how-to videos, at OPPD.com/ee. In addition, OPPD continues to offer a variety of bill payment assistance programs and community resources for those who may be struggling. To learn more by talking with a customer service representative, call 402-536-4131.
The energy sector has seen year-over-year inflation of 17.6% as of October, according to the U.S. Bureau of Labor Statistics. Despite an average inflation rate in the United States that currently stands at 8%, the utility is not proposing any changes to the general rate in 2023, which OPPD officials attributed to careful fiscal management. Other utilities have raised both their general rates and adopted larger increases to their FPPA charges.
For a more in-depth look at the proposed FPPA increase factors and impacts or to ask questions, customers may visit OPPDCommunityConnect.com. The deadline for FPPA-related questions is Dec. 11.
The preliminary $1.9 billion budget for the coming year reflects OPPD's work to adapt to and thrive in an ever-changing energy landscape. It supports our unwavering mission to provide affordable, reliable, environmentally sensitive energy services. The COP takes into consideration an anticipated retail energy sales increase 6.8% from 2022 sales as we continue to serve more customers. In addition, the budget also reflects increases in fuel (11.5%) and purchased power (30.2%) as compared to the 2022 budget.
Capital expenditures
Capital expenditures, totaling $640 million, would include costs related to Power with Purpose (PwP) project, which will add up to 600 megawatts (MW) of utility scale solar and 600 MW of natural gas generation to power our growing communities, as well as associated transmission and distribution infrastructure. The expenditure allocation also covers such areas as routine replacement of fleet vehicles, software renewals, environmental upgrades at power plants, substation and control security upgrades, replacement of transmission and distribution poles as well as underground cable and other underground and overhead infrastructure installations for new residential developments, as well as commercial and industrial customer needs. In addition, OPPD will continue to invest in Light-Emitting Diode (LED) streetlight conversions throughout our service territory. The large portion of all of these expenditures, 74.8%, is expected to come from net proceeds of revenue bonds, projected to be at $478.9 million for 2023.
Operations & maintenance
The amount recommended for non-fuel operations and maintenance in 2023 is $481.8 million, 12.3% higher than 2022 projections. Part of this is due to an anticipated increase in maintenance outages at power plants. We have scheduled outages for Nebraska City Station Units 1 and 2, as well as North Omaha Station Units 4 and 5, to ensure the plants are operating reliably and efficiently, as well as continuing to meet or exceed environmental standards. In addition, OPPD must pay increased fees associated with our regional transmission organization, Southwest Power Pool. These fees will be approximately $10 million higher next year. Another big driver for the increase in this area of the budget is a growing number of employees needed to serve a growing customer base, as well as increased costs for employee benefits. Lower pension fund returns are prompting a proposed $4.6 million increase to the utility's retirement fund contribution for 2023.
Fort Calhoun Station decommissioning
Fort Calhoun Station decommissioning expenditures are on track, continuing a gradual annual decline due to the diligent work of OPPD employees and contractors. OPPD's contribution to the decommissioning trust fund in 2023 is budgeted at $95.2 million, which puts the District on pace to be fully funded by the end of 2024.
Next steps
To view the entire COP or to provide feedback, please visit OPPDCommunityConnect.com. The board will vote on the plan at its Dec. 15 meeting.
Other action
During today's monthly public meeting, directors: 
Approved the September 2022 comprehensive financial and operating reports, the October 2022 meeting minutes, and the Nov. 17, 2022, agenda.
Reviewed and accepted the monitoring report for Strategic Directive 11: Economic Development. Acceptance means the board finds the utility to be sufficiently in compliance with the directive.
Awarded a contract to Mandros Painting Inc. in the amount of $3,740,520 for labor and minor material services for the Nebraska City Station Unit 2 spray dry absorbers (SDAs) lower cone replacement, internal coating and maintenance platform installation. SDAs are a required part of emissions control equipment and the lower cones are nearing the end of their useful service life. The SDA cone and upper vessel walls require coating applications to protect against corrosion and degradation.
Awarded a contract to Superior Lighting for an initial term of three years, with an option to renew for up to three additional one-year contract terms, for the construction services related to installing and removing installed ducted house service cables. This contract provides additional construction labor to supplement the district's resources and support significant customer load growth in our service territory. The projected cost of work for work during the first year, from December 2022 to December 2023, is $843,279.
Awarded a contract to Electrical Power Products Inc. in the amount of $1,911,306, to provide material and construction services for a substation control building enclosure. These enclosures serve an important role in housing equipment to monitor, control, protect, operate and maintain the energy delivery system.
Approved the engineer's certification and authorization for OPPD management to negotiate and enter into a contract with Nexus Controls for the procurement of exciter upgrades for Sarpy County Station units 1 and 2, Jones Street Station units 1 and 2 and North Omaha Station units 4 and 5. These upgrades are needed as the existing exciter equipment has become obsolete and therefore, replacement parts will no longer be available for purchase from the manufacturer.
Received the monthly President's Report, available at OPPD.com/BoardMeeting. 
Next board meetings
The next all-committees meeting is scheduled to be held virtually Tuesday, Dec. 13, about 10 a.m. The meeting link and instructions will be available at OPPD.com/CommitteeAgenda, beginning about 9:45 a.m., depending on the duration of a preceding closed-session meeting, if needed. The next monthly board meeting will be held Thursday, Dec. 15, at 5 p.m., both in-person at the Legislative Chamber of the Omaha Civic Center, 1819 Farnam St., as well as virtually via Webex. The public can attend virtually by accessing the meeting link and instructions at OPPD.com/BoardAgenda, beginning at 4:45 p.m.