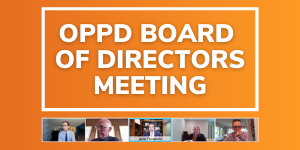 Omaha Public Power District continues to deliver on its mission of affordable, reliable, environmentally sensitive energy services. At this week's committee meetings and this evening's monthly meeting for the OPPD Board of Directors, utility management provided an update on the environmental portion of our mission.
Renewable energy
The annual monitoring report for Strategic Directive (SD) 7: Environmental Stewardship looked at a broad range of efforts and initiatives underway throughout the district, including work to add more renewable generation capacity. Currently, OPPD has more than 1,000 megawatts (MW) of renewable generation capacity, which accounted for 35.4% of our retail energy sales in 2021. This included 31.6% wind, 3.3% hydropower, 0.4% landfill gas and .01% solar generation.
Having a diverse energy portfolio helps keep our electric system reliable and resilient for our customer-owners. The district continues to work to further diversify the generation fleet with the planned 400-600 MW of solar and 600 MW of natural gas capacity as part of our Power with Purpose project.
Pathways to Decarbonization
We continue to move forward with our Pathways to Decarbonization initiative, with a goal of net zero carbon production by 2050. In May, OPPD completed the initiative phase of this effort, which is providing the foundation to inform our decarbonization strategies. These include such areas as demand-side reduction through residential and business rebates and incentives to reduce the amount of energy that customers use. A summary of these findings can be found at OPPDCommunityConnect.com.
Electric and hybrid vehicles and equipment
Nearly half of OPPD's vehicle fleet, 295 vehicles, are either electric, hybrid or flex fuel. Additionally, our equipment fleet now includes 41 all-electric forklifts, yard carts and man-lifts. We continue to look for ways to further electrify our fleet.
Above and beyond environmental standards
OPPD meets and exceeds all environmental regulatory standards, while operating and maintaining our power plants to keep reliable energy flowing to our customers. We have taken steps above and beyond what's required for compliance, achieving low emitter status for particulate matter, conducting robust internal audits and working to restore native prairie habitat through our Prairie in Progress program.
Since 2018, the utility has established more than 331 acres of prairie land across 13 sites, where we've planted pollinator habitat as a way to increase the dwindling monarch butterfly and bee populations. Work continues to diversify plantings throughout the district to advance these efforts. Doing so is a win-win, benefitting the utility through reduced grounds maintenance costs.
In 2020, OPPD worked with the U.S. Fish and Wildlife Service and the Nebraska Game and Parks Commission to install a 65-foot osprey tower at Fort Calhoun Station to replace a pre-existing osprey nest. It had to be taken down during the winter, while the birds had migrated south, due to plant decommissioning work. The osprey returned in the spring of 2021. And this past spring, we had a live webcam set up to capture the hatching and raising of their new offspring.
OPPD also installed a new peregrine falcon box in 2019, as well as a live webcam. It is located atop a coal stack at North Omaha Station. The newest generation of peregrine falcons hatched this past spring. The utility invited customers to participate in an online naming contest, selecting Thunder and Lightning for the two chicks.
Greener Together
This year, OPPD launched the Greener Together program, where participating customers have an opportunity to select and support specific green projects within our communities. Through this program, participating customers can help select projects supporting environmental sustainability or community betterment. Local organizations can apply for project funding, with the first project application window open until Oct. 31, 2022.
Recycling
OPPD continues to focus on recycling as much material as possible. In 2021 the district recycled 2,162 pounds of batteries, 3,365,606 pounds of metal, 89,960 gallons of oil and more than 500 utility poles. In addition to benefitting the environment, these efforts have also benefited the utility financially, with a payback of $1.3 million.
Other action
During today's monthly public meeting, directors: 
Approved the August 2022 comprehensive financial and operating reports, the September 2022 meeting minutes, and the October 20, 2022, agenda.
Reviewed and accepted the monitoring reports for SD-12: Information Management and Security and SD-13: Stakeholder Outreach and Engagement monitoring reports. Acceptance means the board finds the utility to be sufficiently in compliance with the directives.
Approved a request by executive leadership to exceed 2022 expenditure levels that were originally approved in the 2022 budget. The increase is, in part, due increases in purchased power costs caused by higher market prices and operating interruptions, as well as higher fuel prices. Partially offsetting this increase in expenditures was the delay in OPPD's Power with Purpose project, outside of the utility's control, resulting in lower capital expenditures as a result of timing shifts and refined financial estimates. Worth noting, the overall financial health of the district remains largely unaffected as the utility is also experiencing increased off-system sale revenues, which work to offset the increase in expenditures.
Awarded a grading contract to Valley Corporation in the amount of $2,777,388 for construction work at a greenfield site in Bennington, Neb., in preparation for a new 161-kilovolt substation to support customer load growth in the area. The scope of work includes grading, seeding, soil stabilization, driveway installation, stormwater control and rock placement.
Awarded a labor contract to Total-Western Inc., in the amount of $1,562,054, for the replacement of the economizer upper bank tubing assemblies for the Nebraska City Station Unit 2 boiler.
Approved the Engineer's Certification and authorization by OPPD management to negotiate and enter into a contract with Siemens Energy, Inc., for the supply of materials and services to repair or replace the steam turbine intercept valve bonnet assemblies at Nebraska City Station Unit 1.
Approved the Engineer's Certification and authorization by OPPD management to negotiate and enter into a contract with Mitsubishi Power Aero LLC for the repair of Sarpy County Station Unit 4A power turbine.
Received the monthly President's Report, available at OPPD.com/BoardMeeting. 
Next board meetings
The next all-committees meeting is scheduled to be held virtually Tuesday, Nov. 15, about 10 a.m. The meeting link and instructions will be available at OPPD.com/CommitteeAgenda, beginning about 9:45 a.m., depending on the duration of a preceding closed-session meeting, if needed.
The next monthly board meeting will be held Thursday, Nov. 17, at 5 p.m., both in-person at the Legislative Chamber of the Omaha Civic Center, 1819 Farnam St., as well as virtually via Webex. The public can attend virtually by accessing the meeting link and instructions at OPPD.com/BoardAgenda, beginning at 4:45 p.m.