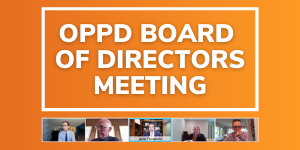 Despite industry challenges, Omaha Public Power District is making good progress on its Power with Purpose (PwP) initiative to add 600 megawatts (MW) of utility-scale solar and 600 MW of natural gas generation. The increased generation capacity will help maintain long-term reliability and resiliency of the utility's electric system, while supporting OPPD's work to become a net-zero carbon emitter by 2050. Utility leaders shared an update with the OPPD Board of Directors at committee meetings this week.
Solar generation
Work is well underway for OPPD's first solar facility. Platteview Solar in Saunders County will supply 81 MW of generation capacity. The PwP team is working on procuring the major equipment needed for the project. Civil and electrical design work is about 30% complete. OPPD is also developing a plan for ground cover at the site, which includes a pollinator mix. This is in keeping with our Prairies in Progress project, which began in 2018 as a way to reduce landscape maintenance costs while providing habitat for butterflies and bees.
The solar industry continues to feel the effects of a U.S. Department of Commerce anti-circumvention investigation, which began in March. Federal authorities are trying to determine if some Southeast Asian solar manufacturers, which produce 80% of our nation's imported solar panels, are or were using Chinese parts to produce solar panel components and circumvent tariffs. The deadline for a preliminary determination was pushed back from late August to November 28. A final determination is likely in the spring of 2023. OPPD continues to closely follow developments to determine potential impacts and the best path forward as we bring on additional PwP solar projects. In addition, we continue to partner with local community leaders and other stakeholders to raise awareness and improve understanding of the development process for solar facilities.
Natural gas generation plants
The project has completed the process of delivering nine Wärtsilä reciprocating internal combustion engines to Standing Bear Lake Station, a natural gas generation balancing plant under construction near 114th Street and Military Road. The utility worked with Wärtsilä, large equipment movers, government officials and law enforcement to complete the work safely and efficiently. Activity took place in the late evening and early morning hours to minimize traffic interruption. The final engine was moved Sept. 19. For a closer look at this big undertaking, visit OPPDTheWire.com.
In late fall, two Siemens simple-cycle combustion turbines and generators will be moved to the other new natural gas generation balancing station location, in Sarpy County. Turtle Creek Station is south of 168th Street and Fairview Road. Meantime, the construction team has been busy building the infrastructure to support the plant. Both plants will be completed by 2024.
Environmental Stewardship policy revision
The OPPD board approved a recommendation by utility management to revise Strategic Directive (SD) 7: Environmental Stewardship. The policy revision includes a target of reducing carbon dioxide (CO2) emissions at the North Omaha Station (NOS) plant site by 3.5 million tons annually, when compared with 2013 emission levels, by 2027.
Strategic Directives are designed to be a tool by which the district's elected board of directors can review performance and hold OPPD accountable on behalf of its customer owners.
This revision coincides with the anticipated timeline for the retirement of NOS Units 1-3, which were previously converted from low-sulfur coal to natural gas, and the conversion of Units 4 and 5 from low-sulfur coal to natural gas. During their August meeting, the board approved a recommendation to temporarily postpone this transition until the utility's new natural gas generation balancing plants are fully studied and approved for grid interconnection service in accordance with federal law issued by the Federal Energy Regulatory Commission and administered by the Southwest Power Pool.
This site CO2 target includes those emission reductions already realized through the conversion of Units 1-3 to natural gas in 2016, and will be fully realized upon the cessation of all coal combustion at the facility. In addition to CO2, reductions in other emissions at the site are expected through the transition, including SO2 (approximately 5,600 tons per year), NOx (approximately 2,800 tons per year), and PM2.5 (approximately 140 tons per year).
Other action
During today's monthly public meeting, directors: 
Approved the July 2022 comprehensive financial and operating reports, the August 2022 meeting minutes, and the September 22, 2022, agenda.
Approved the 2023 board meeting schedule. This schedule will be available at OPPD.com/BoardMeeting.
Accepted the monitoring report for Strategic Directive (SD) 9: Integrated System Planning (formerly known as SD-9: Resource Planning). Acceptance by the board means the board finds OPPD to be sufficiently in compliance with the directive.
Accepted the monitoring report for SD-10: Ethics. Acceptance by the board means the board finds OPPD to be sufficiently in compliance with the directive.
Approved 2022 negotiated labor agreements with International Brotherhood of Electrical Workers (IBEW) Local 763, IBEW Local 1483 and International Association of Machinists and Aerospace Workers Local 31 for a three-year term.
Accepted the Engineer's Certification for a generator exciter project at Nebraska City Station (NCS) and authorized management to negotiate and enter into contracts for repair materials and services for the NCS Unit 2 exciter and related components.
Approved a contract with TEiC Construction Services in the amount of $1,331,059 for labor services to replace the NCS Unit 2 air preheater baskets and seals and SCR catalyst modules.
Received the monthly President's Report, available to view at OPPD.com/BoardMeeting. 
Next board meetings
The next all-committees meeting is scheduled to be held virtually Tuesday, Oct. 18, about 10 a.m. The meeting link and instructions will be available at OPPD.com/CommitteeAgenda, beginning about 9:45 a.m., depending on the duration of a preceding closed-session meeting, if needed.
The next monthly board meeting will be held Thursday, Oct. 20, at 5 p.m., both in-person at the Legislative Chamber of the Omaha Civic Center, 1819 Farnam St., as well as virtually via Webex. The public can attend virtually by accessing the meeting link and instructions at OPPD.com/BoardAgenda, beginning at 4:45 p.m.