Home

>

Electrical Line Plan

Electrical repair coverage from $3.95/month. 
Out of sight, out of mind. For most of us, this describes the electrical lines that power our home. With the Electrical Line Plan, if one or more of your in-home electrical lines fails, you won't be left in the dark. You can call the 24-hour repair hotline for help, seven days a week, 365 days a year. A local, licensed professional will be sent to your home to start covered repairs. The covered repair bill will be paid directly to the electrician, up to $1,500 per visit.
OPPD has partnered with Service Line Warranties of America (SLWA) to offer this Electrical Line Plan to our customers to help protect from the aggravation and expense of covered electrical line repairs.

Electrical Line Plan Features
24/7 repair hotline, to local licensed electricians
No service visit charge
Up to $1,500 in covered repairs per service call
No annual limit on the number of service visits

Cost: Introductory price of $3.95/month for the first year, then $4.49/month after the initial term
Electrical Line Plan Coverage Includes:
Customer-owned service (point of attachment/weatherhead, service entrance cable, main service panel) See diagram below.
Entry/breaker box circuitry
Fuses/circuit breakers
Wire failures and shorts
Wall outlets
Dimmers
Wall switches
Connections
Attached garage is covered including outlets, switches, and interior wiring (excludes the garage door opener)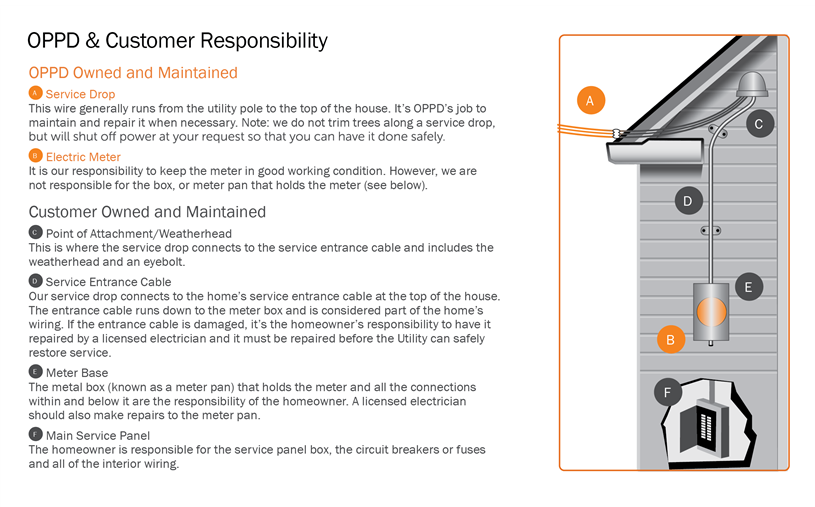 Still have questions? The Electrical Line Plan FAQ may have the answer. Review terms and conditions. 
Make a Claim
Call the 24-hour repair hotline, 1-866-277-3706.
Fast, Professional Repair Service & 24-Hour Hotline
Contact Information
If you have questions, call OPPD at 402-536-4131 or you may email customerservice@oppd.com.